Custom Cupolas by Cupolatom
About Cupolatom
"Metal work has always been my passion.
I decided when I retired in 2000, I would spend my days in my workshop doing
what I love." —Tom Wilson
Installing a custom-built cupola may be just what you need to give your home that extra touch of character, in addition to ensuring an impressive architectural statement. After working in the industry for 40 years, with a wide range of metals, including light and heavy gauge, I am confident to put my signature on all of my creations. Each Cupola is handcrafted to your specifications from my shop here in Warren, Ohio. There are hundreds of roof and color combinations to choose from. With my experience and years of service, I look forward to helping you add the perfect finishing touch to your upcoming project. For more information, check out Cupolatom on Facebook. Facebook for more information.
Standard Cupolas
style no.1

24 X 24 / 40" Inches High
$475 - Coilstock Roof
$575 - Copper Roof
$500 - Copper Penny Roof



style no.2

30 X 30 / 48" Inches High
$600 - Coilstock Roof
$700 - Copper Roof
$625 - Copper Penny Roof
$100 - Addl. Charge for Windows



style no.3

40 X 40 / 64" Inches High
$1000 - Coilstock Roof
$1150 - Copper Roof
$1075 - Copper Penny Roof
$175 - Addl. Charge for Windows
Octagonals & Ventilators
style no.4

36 Octagon / 52" Inches High
$1250 - Coilstock Roof
$1400 - Copper Roof
$1325 - Copper Penny Roof
$125 - Addl. Charge for Windows



style no.5

Round Roof Ventilator 43" Dia.
43" Dia / $600 Galvanized
50" Inches High / $600 Galvanized


delivery
Free Delivery
Free deilivery within 100 miles of Warren, Ohio. For questions or more information on products and services call:
(330) 847-9180
Cupolas Built to Your Specifications.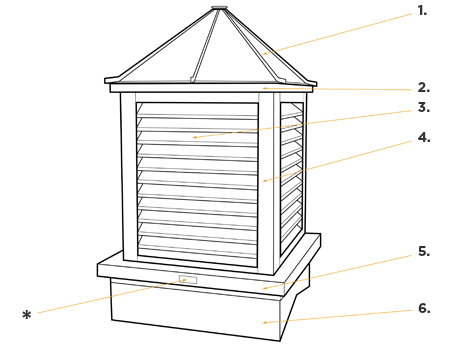 A Lasting Impression
Whether it's for a commercial or residential, each cupola is built around a sturdy interior frame that will easily withstand weathering of even the harshest conditions. Cupolatom ensures high-quality work and great customer service. All of the cupolas are handcrafted in Tom's workshop, and undergo careful inspection before receiving Tom's Plaque of Approval.
See color options below.
Custom Cupola Color Options

01 Glacier White

02 Antique Parchment

03 Natural Linen

04 Platinum Gray

05 Silver Moss

06 Coastal Sage

07 Cape Cod Gray
08 Slate

09 Adobe Cream

10 Colonial Ivory

11 Maple

12 Window Beige

13 Monterey Sand

14 Vintage Wicker

15 Tuscan Clay

16 Heather

17 Walnut

18 American Brown

19 London Brown

20 Autumn Red

21 Ivy

22 Mystic Blue

23 Harbor Blue

24 Old World Blue

25 Forest Green

26 Grecian Green

27 Burgundy
28 Charcoal

29 Black

30 Terratone Bronze

31 Bronze

32 Musket Brown

33 Royal Brown

34 Teakwood

35 Cooper Penny Roof
36 Cooper Roof
Where to Find Cupolatom
Let us get started on your custom cupola or vetilator today. Ask about Tom's biplane weathervanes now
in copper or stainless and check out his Facebook page to see all of the Cupolatom creations.
Cupolatom / Tom Wilson • 7001 Downs Road • Warren, Ohio 44481 • 330.847.9180 • Find us on Facebook